Dear Parents and Guardians,
A huge thank you last week for all your support with Family Fun Night and Sports Day. A huge thank you to our PAC for all their hard work. We could not have had such great events without the support from such wonderful parents.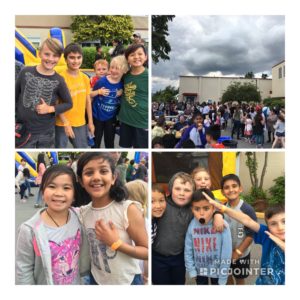 As we wrote last week, we are having our year end assembly on June 22 at 9:00am. This assembly will help us celebrate our Grade 7s who will be moving on to high school. All parents are welcome but we especially encourage our Grade 7 parents to attend. As per tradition, our kindergarten students will have a small role in the assembly as well.
The assembly will end approximately at 10:20 and there will be an opportunity for Grade 7s to take pictures afterwards. There will also be a professional photographer available at the time as well (Please refer info that was emailed last week).
Our PAC will then treat our grade 7 students to a Grade 7 Luncheon (reserved for Grade 7 students only).
In the afternoon, the grade 7s will end their day with a grade 7 dance (please note that this event will also be for grade 7 students only).
LAST CALL FOR PICTURES!
Do you have any pictures of school events? Please feel free to either email them to me or upload them to the link below. I would love to have as many pictures as possible for the year end slide show.
As we near the end of the year, it would be a great idea to come and check the lost and found. All unclaimed items will be donated to charity.
Have a great week!
 
Sincerely,
Mark Douangchanh
Monday, June 18 – Div 1 and 2 to Playland
Thursday, June 21 – Div 4 and 5 to Sungod
Friday, June 22 – Year End Assembly at 9am
Thursday, June 28 – Last Day for students
Thursday, June 28 – Report Cards go home
Thursday, June 28 – Year End Slideshow Assembly at 9:00am
Thursday, June 28 – Early Dismissal at 10:30