Dear Parents and Guardians,
Thank you for all the support you gave to your kids during Science Fair. The kids had such a great time. Congratulations to all those who made it the District Science Fair. We even made it into the Optimist.
As we mentioned last week, we are working hard at different events and activities to honour "semaine de la francophonie".
One of the events is an opportunity to taste authentic crepes on Thursday March 15! All students are asked to bring $2.00 to help offset the costs. The crepes will be butter and sugar flavour. The crepes are made from a mix of white flour and organic buckwheat flour. If a student requires a gluten-free option, this is possible but the teacher must be told in advance of the event.
Dear Gr.7 Parents!
Delta Academies is having an Information Session for the Performance Academy!   Thurs., March 15th at 7pm at the School Board Office located at 4585 Harvest Dr. in Ladner.   This is the perfect program for any student that loves being on stage, creating and performing!  For more info please contact Paige Hansen at:  phansen@deltasd.bc.ca
Thank you to all our basketball coaches and parents who supported our teams! The kids had a great experience all because of you! We will be following up with Hoop Shoot this Thursday. Those who made the hoop shoot team should have received a Hoop Shoot Newsletter. Congratulations to the kids to made it through to Hoop Shoot.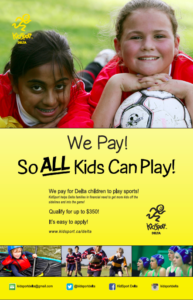 I know that many families have difficulty finding ways to get their kids into sports. We wanted to let you know of this amazing resource that you could look into. If you need more info, you can always contact me at the school.

EASTER LOLLIES WILL BE SENT HOME THIS WEEK!
Have a great last week before spring break. I hope that you have a chance to spend more time with your loved ones!
 
Sincerely,
Mark Douangchanh
March 12 to March 16 – Semaine de la Francophonie
Thursday, March 15 – Crepe Truck in the afternoon
Thursday, March 15 – REPORT CARDS GO HOME
Thursday, March 15 – Hoop Shoot
Friday, March 16 – PAC Hot Lunch FRESH SLICE