I hope you are enjoying the last bit of summer with your loved ones. We are looking forward to seeing our students again and starting off another great year at Devon Gardens.

Please see below for some news and information that may help you out in the next few days.
Office hours starting August 27th are 8:30am – 4:00pm. *Please note that the office will be closed on Thursday, Aug 30 from 8:30am-1:00pm
Just in case you need them, please find the school supplies list below.
K – Gr.7 English Supply Lists 2018-19
K – Gr.7 French Supply Lists 2018-2019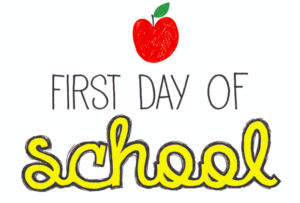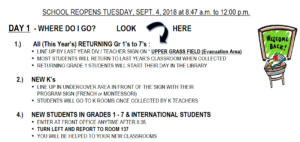 Please keep in mind that we are working hard to finalize classes and that this process may take some time. Therefore it is uncertain when students will move into their final classes with their teacher for the year. We know that students are anxious and excited to find out who their teacher will be. We ask for your patience and understanding as we work through this process, as it is of the utmost importance to make sure that class placements are done to the best of our capabilities.
Gradual Entry for Kindergarten
Every year we have a gradual entry for Kindergarten. This involves a phasing in of small groups and shortened attendance times, allowing children to adjust to a new school environment and families to develop relationships with teachers. If your child is in kindergarten please follow the Gradual Entry Schedule that you received at the end of last school year, which can also be found below.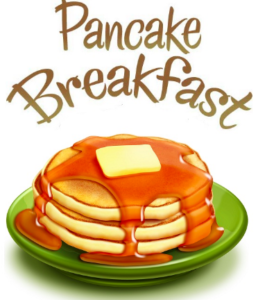 Devon Gardens first day of school pancake breakfast!
It's less than two weeks until the first day of school! To start the year off with a fun time, the Devon Gardens PAC is hosting a pancake breakfast on the first day of school. Come early to enjoy some pancakes and catch up with friends.
Pancakes will be served in the gym 8:00 – 8:30am. We'll also host our annual welcome back tea in the gym for parents once the kids are in class.
Kindergarten parents: please join us in the gym after your drop off your children to meet our principal and vice-principal. We'll have more pancakes for the kindergarten kids once they are dismissed at 9:45
To ensure our event runs smoothly, we also need volunteers for set-up, food prep/serving, and clean-up. Please email Jessica Jensen at me@jessicajensen.ca if you're able to help.
Enjoy the remaining days of summer break and see you in September!
Devon Gardens PAC
Please click below for our updated Parent Handbook.
Have a great start to the school year!
 
Sincerely,
Mark Douangchanh
Principal, Devon Gardens
Tuesday, Sept 4 – First Day of School (12:00pm Dismissal)
Monday, Sept 10 – PAC Meeting at 7pm