Dear DG Families,
Thank you to all our families who joined us for Student Led Conferences last week!
Jess Dance Hip Hop Lessons
We are excited to let you know that on February 13th, 14th, 15th and 16th, a dance group called Jess Dance will be teaching students dance choreography. The Jess Dance group is led by Jessica Dexter, the creative director. This group of dancers have been committed to empowering and inspiring students through dance experiences that develop self-worth, self-expression, connection to movement and each other for 25 years.
Groups will consist of 2-3 classes and will meet from 25 – 40 minutes each day in the gym to learn the steps. Each group will learn different choreography that match the students' development level.  At the end of the day on Thursday, groups will be celebrating their learning by sharing their dances with the rest of the classes.
We encourage students to wear comfortable clothing and athletic footwear so they can move and dance.
Our AMAZING DGPAC will be covering the cost for this activity. 
If you do NOT want your child to participate in the activity, please email your child's teacher by February 10th, 2023 and we will create an alternative learning activity.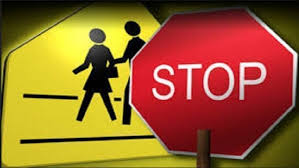 Student Crossing Guard Schedule:
Thank you for your continued support of the crossing guard program at Devon Gardens. This important leadership role helps keep the students safe. If you know you are going to be away for an extended period because of a planned vacation, please encourage your child to find their own replacements and to let Ms. Grund know. Here is the crossing guard schedule.

Adult Crossing Guard Needed (paid position)

We are still looking for a Crossing Guard for the corner of Nordel and 112th.  
Do you know someone (friend, neighbour, family member, etc…) who might be interested?   Please help us get the word out!      If yes, please contact Ms. Grund at bgrund@deltaschools.ca   or at 604-581-6185
This is a part-time role, for one hour per day (30 minutes each in the morning and afternoon), Monday – Friday, from September to June, on days school is in session.
Hours: 
8:20– 8:50am, Mon – Fri
3:00 – 3:30pm, Mon, Tues, Thurs, Fri
1:45 – 2:15pm, Wed
Requirements: 
Completion of Grade 10, or equivalent. Ability to communicate effectively with students, parents and drivers. Ability to use good judgement when confronted with difficult situations. Knowledge of and the ability to apply basic road safety rules. Physically capable of performing the duties of the position. Ability to work in all weather conditions. Criminal records check required

Please don't send your children to school when they are ill

Reminder – PAC Fundraisers ongoing throughout the year
Return-it Express
PAC has created a school fundraising account. To participate, simply bring your containers to the depot in sealed, clear bags, and enter the registered phone number, 604-581-6185, into the Express kiosk. You will be prompted to select the number of bags you're dropping off, the kiosk will automatically print the same number of sticker tags displaying our PACs unique Express account code. Tag each of your bags with a sticker tag and drop the bags off in the designated Express drop-off area to be counted. For a list of Return-it Express location visit https://www.return-it.ca/locations/express/
Cobs Bread Dough Raiser Program
This program enables us to raise money for our school throughout the year! Be sure to mention Devon Gardens Elementary (or code 7806) each time you make a purchase at COBS Bread Scott 72 Centre; they will donate 10% of your purchase back to our school.
Level Ground Trading
Level Ground is a BC business that works with fair trade coffee, tea, dried fruit and spice producers.
Supporters enter the code devongardensin the 'discount code' field at the checkout.
All products on our web store (com) qualify for the fundraiser. Orders must be $40 or more. These orders also qualify for free shipping to most addresses in Canada (there is a shipping fee on all orders shipped to NU/NT/YK). All orders are paid for through our web site and shipped directly to your supporters. No need to collect orders or distribute products to households.
Your fundraising amount is 20% of total sales.  So on a $100 order your school will receive $20.
Online Stay Safe & Babysitting Courses
Offered through First Aid Hero. When registering use promo/coupon code DGPAC and our PAC will earn $5 from each registration. For details, available course dates and online registration, please refer to this flyer:
Questions? Send an email to pacdevongardens@gmail.com
Thank you,
Your Devon Gardens PAC
Other Opportunities for Families
erase is offering online interactive sessions focused on exploring consent and gender-based violence, with school-day sessions for students in Grades 8-12, and evening sessions suited for students in Grade 8 and above and their families. Led by expert trainers from Safer Schools Together, students and families will learn tips and tools to support discussions and to support positive connections. Schools and families can register online. Contact erase@gov.bc.ca with any questions or for more information.
TOPICS COVERED WILL INCLUDE:
• What defines consent? A discussion
• The dynamics of gender-based violence
• An overview of worrisome content, and how to manage their child's exposure on popular social media and gaming platforms
• The different types of bullying and cyberbullying relationships
• The pathway to sextortion and human trafficking–important signs to look for
• The importance of checking in on our children's mental health and strategies for success
• Family suggestions, as well as tips to facilitate positive conversations and outcomes
Feb 2th 6:30-8pm   
Feb 7th 6:30-8pm
Feb 27th 6:30-8pm
March 8th 6:30pm-8pm
https://event-wizard.com/EstablishingRespectfulRelationshipsandConsentinOurCommunitiesStudentParentMar82023/0/register/

North Delta Valentine's Event for Families: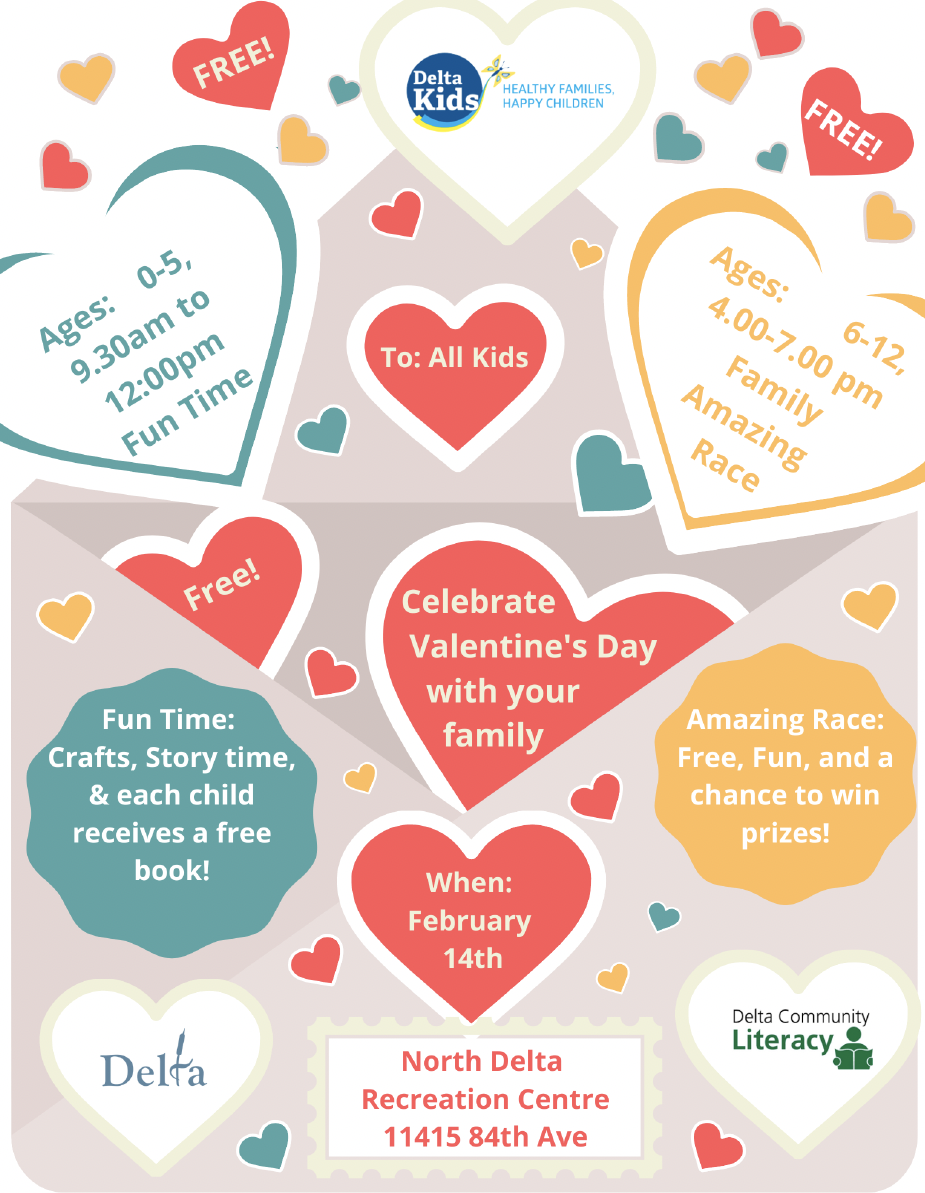 Scan QR code for more information: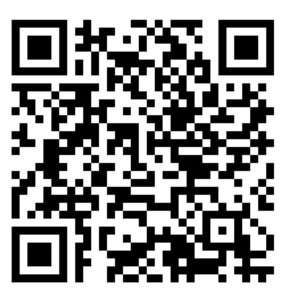 Thursday, February 2nd:  Special Lunch Day (Panago)
Monday, February 6th: PAC meeting 7:30pm
Tuesday, February 7th: Abbey Road Rockers (musical group presentation)
Sunday, February 12th: Application deadline for Late French Immersion (gr 6 entry) 4:00pm
February 13th – 16th: Jess Dance Hip Hop lessons
Tuesday, February 14th: Wear Red/Pink for Valentine's Day
Thursday, February 16th: Special Lunch Day (Cobbs)
Friday, February 17th: Professional Development Day (no school for students)
Monday, February 20th: Family Day (schools are closed)
February 21st – 24th: Kindergarten Registration