Dear DG Families,
Thank you to those of you who were able to attend our Remembrance Day Assembly on Thursday.  It was wonderful to have you in attendance!
Project of Heart – Survivor Visit
Over the past 2 years, our school has been working through the steps of Project of Heart, learning about the history and legacy of Indian Residential Schools in Canada.   Through this project, students decorated tiles as a way to commemorate those who died as a result of the residential school experience, and to acknowledge the survivors.  The tiles have been put together into a permanent commemoration exhibit (a mural) which has now been installed in main hallway of the school.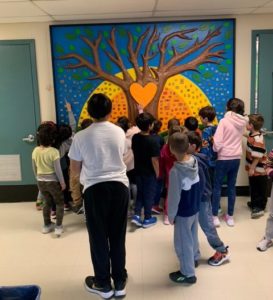 The next step in this project, is for students and staff to hear directly from an Indian Residential School Survivor.  This week, our school will be visited by Gertie Pierre, an elder from the Sechelt First Nation who, in her youth, attended residential school for 10 years.  After years of healing, she graduated with a Bachelor of Social Work in 2011 (at the age of 65!).   She now works as a cultural support worker with the Indian Residential School Survivors Society.   We look forward to welcoming Gertie to our school this week, and learning from her.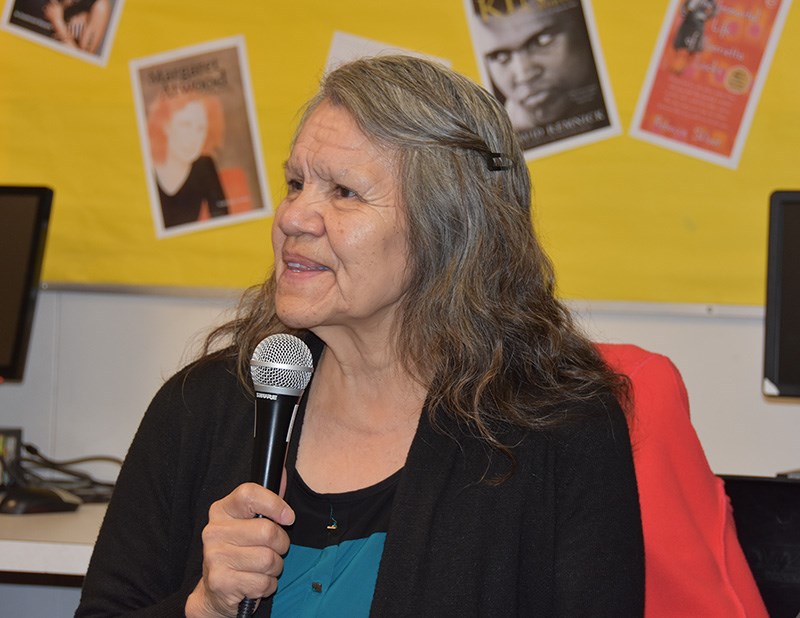 Growth Mindset
Each month we have school wide focus. For the month of November, the focus is on perseverance and having a growth mindset.
When we talk about helping kids to persevere or having a growth mindset, we're not saying they should learn to act like things are great all the time (because that's not real!).  As we focus on perseverance mindset, one of the things we'll be talking about is helping kids develop resilience and a growth mindset.
What Is a Growth Mindset?  We all have beliefs about our own abilities and potential. These beliefs are part of our mindset, which helps determine the actions we take – or don't take – as we go through life.
A growth mindset is the belief that our intelligence and abilities (and often our circumstances) can be improved with effort and the right strategies. A fixed mindset, on the other hand, is the belief that our intelligence and abilities are more or less stable and unchangeable.
Cultivating a growth mindset has been strongly linked to greater happiness and achievement in life. When kids know their brains are capable of growing, amazing things can happen! So how can you help them develop this mindset?
Here are some ways to help support the concept of "growth mindset" at home
1. Talk about the brain and how it works – help kids understand that the brain literally grows new connections as they practice and learn how to do something. When kids learn how their brains work and grow, they take the first steps of developing a growth mindset.
2.  Talk about the two mindsets and the basic differences of growth and fixed mindsets.  Find opportunities to help kids recognizing them – in story characters and even in  themselves.   Here's a great video to get you started
3.    Model a growth mindset for them.  One effective way to do this is to let your kids   overhear your thinking out loud when you go through challenges..  For example, saying "This is really hard for me. I guess I better keep practicing."
4.  Add the magical word … YET     If you hear your child say he/she can't do something, encourage them to add "yet" at the end of the sentence.   eg. "I can't do a cartwheel, yet"
Just one word drastically changes the meaning of the phrase – and the outlook moving forward!
5.  Praise effort over outcome. The key to instilling a growth mindset is teaching kids that their brains are like muscles that can be strengthened through hard work and persistence. To reinforce that as parents, it's important to praise effort over outcome. For  example, instead of praising your child for a seemingly permanent characteristic ("You are so smart"), praise the effort they put into it ("You worked really hard to solve that problem.") The first is known as people praise; the second is process praise. Process praise promotes an internal sense of self-efficacy because it reinforces that successes are due to effort (which the child can control) rather than some fixed level of talent or skill.
6.  Avoid labelling – Whether it's a positive label (You are so smart!) or a negative one (He's not very good at math), they both communicate a fixed mindset.  Instead of motivating kids, labels like these can lead to limiting beliefs about themselves and others.
7.  Replace negative self-talk with these phrases. Talk to your kids about their "inner voice" and the concept of self-talk, both positive and negative. Teach them to recognize unhelpful self-talk and replace it with positive alternatives. For example:
This is too hard, I'll never get it… This may take more time and effort.
I can't do Math… I am going to train my brain to do Math.
I suck at basketball… I am not as good at basketball yet as I want to be.
Board Games Donations
In our emergency planning, we know we need to be able to keep students safe, fed, hydrated, dry and warm for up to 72 hours.   But we would also need to keep them occupied.
To help with this, we are looking for donations of things like gently used board games, puzzles, Lego, card games, etc… (things that don't take up too much space, or require power/batteries).  So far, we have received a couple of donations.  But, we could definitely use some more!  If you have items at home you are no longer using that might be suitable, please consider donating them to our EP program.  For games/puzzles, please double check there are no missing pieces.  Donations can be dropped off at the school office.
School Goal – Writing Focus
For the last couple of years, our school academic goal has been centred around writing. Specifically, our goal has been to explicitly teach writing strategies in order to help our students find joy in writing.  We've noticed that students often struggle with writing, find it challenging to express themselves in writing and aren't necessarily able to see themselves as "writers".   Many students also report feeling quite stressed and anxious when it comes to writing.
In order to support of our writing goal, we've created dedicated time for teachers to work collaboratively, in grade groups, where they meet to look at resources to support their teaching, talk about writing strategies, share ideas, co-plan activities and lessons, analyze student writing samples, and more.  We also survey students in grade 3 -7, twice a year (fall and Spring) to gather their input on what they are learning and how they feel about writing.
Mrs. Goldman, our librarian, also arranges for some author visits.  Having students hear from an author directly can be a powerful experience.  It can help build relationships between kids and the written word, inspire them to pursue creative endeavours, and connect lessons learned in the classroom with the wider world.
Hearing directly from an author also gives kids a behind the scenes look at how a story or book comes to be; the journey from idea to publication. When authors discuss how they have to incorporate their editors' feedback students recognize how authors have to use the same skills that they are learning in class and make the connection with the feedback they, themselves, receive from their teachers about their own writing process.

Crossing Guard Schedule
A huge thank you to our student crossing guards!   We appreciate the many students that volunteer their time to keep our school community safe before and after school. As this is such an important role, we ask that students find their own replacements if they are not able to do their crossing guard duty. Please review the updated crossing guard schedule with your child so they understand when their crossing guard duty takes place. Ms Grund is in charge of our Student Crossing Guard program, so please contact her with any questions.
Revised Crossing Guard Schedule Crossing Guard

Week(s) of Giving
At this time of year, one thing we focus on at Devon Gardens, is how help and give others hope for the holidays.  Beginning November 21st, we will kick off our Week(s) of Giving initiative.  This year we are supporting two organizations in particular:  Fraser Region Aboriginal Friendship Centre (FRAFCA) and The Orchard, Whole Way House Society.   Donations for FRAFCA will be primarily focussed on pre-teens and teens, while donations for The Orchard will be for families and seniors.
We will be collecting various (NEW) items, suitable for a variety of ages (from kids to seniors) that will then be assembled into gift boxes.   If you would like to help us with these donations, please keep the information below in mind when doing your holiday shopping .  The gift boxes will be shoe boxes, so please keep this size in mind when sending in donations.   And, if you have shoe boxes to donate, please send those in too!
November 21st & 22nd :  Something Cozy (mitts, hats, toques, socks, scarves, etc…)
November 23rd & 24th: Something to sip (hot chocolate, tea, coffee, cute mugs, travel tumblers, Starbucks or Tim Hortons Gift Cards, etc…)
November 25th & 29th: Something to Do (cross word puzzle books, sodoku, rubics cubes, colouring books & crayons/pencil crayons, sketch books, playing cards, travel board games, etc..
November 30th & December 1st: Something Sweet to Eat (cookies, candies, chocolates, restaurant gift cards, etc…)
In addition to our Week(s) of giving initiative, exchanging families with another Delta school to put together Christmas Hampers, as well as collecting canned food items for the Food Bank.
Please stay tuned for more information, coming soon.

Have You Ever Thought of Becoming a Foster Parent?

Do you share a desire to help young people reach their full potential?
Currently in B.C. there are 1000's of kids who need temporary foster families when they can't live at home.  Many of these children and teens have experienced trauma and difficult times.
They need amazing foster families who understand the complex model of care and support they require to grow and develop in a positive way.   Please see the links below for for more information:
If this is something you would be interested in, or if you would like more information, please contact:
Ministry of Children & Family Development, South Fraser Recruitment Team (FII) at  778.609.2142

Purdy's Fundraiser
The DGPAC is doing a Purdy's Fundraiser.  If you are looking to purchase chocolates for gifts this season, here's a way you can do it while also supporting your PAC!
Here's the link to order: https://fundraising.purdys.com/join.aspx/1589588-100750
Please contact the DG PAC  if you have questions or need any further information
Reminder – PAC Fundraisers ongoing throughout the year
Return-it Express
PAC has created a school fundraising account. To participate, simply bring your containers to the depot in sealed, clear bags, and enter the registered phone number, 604-581-6185, into the Express kiosk. You will be prompted to select the number of bags you're dropping off, the kiosk will automatically print the same number of sticker tags displaying our PACs unique Express account code. Tag each of your bags with a sticker tag and drop the bags off in the designated Express drop-off area to be counted. For a list of Return-it Express location visit https://www.return-it.ca/locations/express/
Cobs Bread Dough Raiser Program
This program enables us to raise money for our school throughout the year! Be sure to mention Devon Gardens Elementary (or code 7806) each time you make a purchase at COBS Bread Scott 72 Centre; they will donate 10% of your purchase back to our school.
Level Ground Trading
Level Ground is a BC business that works with fair trade coffee, tea, dried fruit and spice producers.
Supporters enter the code devongardensin the 'discount code' field at the checkout.
All products on our web store (com) qualify for the fundraiser. Orders must be $40 or more. These orders also qualify for free shipping to most addresses in Canada (there is a shipping fee on all orders shipped to NU/NT/YK). All orders are paid for through our web site and shipped directly to your supporters. No need to collect orders or distribute products to households.
Your fundraising amount is 20% of total sales.  So on a $100 order your school will receive $20.
Online Stay Safe & Babysitting Courses
Offered through First Aid Hero. When registering use promo/coupon code DGPAC and our PAC will earn $8 from each registration. For details, available course dates and online registration, please follow the links below: Babysitting – https://firstaidhero.com/babysitting-courses/online-babysitting-courses/ Stay Safe – https://firstaidhero.com/stay-safe/
Questions? Send an email to pacdevongardens@gmail.com
Thank you,
Your Devon Gardens PAC

Tuesday, November 15th: Grade 7 Volleyball Home Game 3:20pm
Wednesday, November 16th: Neufeld Farms Order pick-up 6:00pm at the school
Thursday, November 17th: Grade 7 Volleyball Home Game 3:20pm
Friday, November 18th: Special Foods Day Cobs Bread & Cinnamon Buns
Monday, November 21st – Week(s) of Giving begins
Tuesday, November 22nd: Grade 7 Volleyball @ McCloskey 3:20pm
Thursday, November 24th: Grade 7 Volleyball @ Gray 3:20pm
Monday, November 28th: Professional Development Day (no school for students)