Dear DG Families,
Last week, we were honoured to have had Gertie Pierre and Wesley Scott from the Indian Residential School Survivors Society (IRSSS) visit our school.  Gertie, a survivor of the residential school system, having attended both the Sechelt and the Saint Mary's residential schools, shared her experiences with us.  Wesley,  Resolution Health Support Worker & Workshop Coordinator with the IRSSS, also provided valuable information to students and helped answer questions.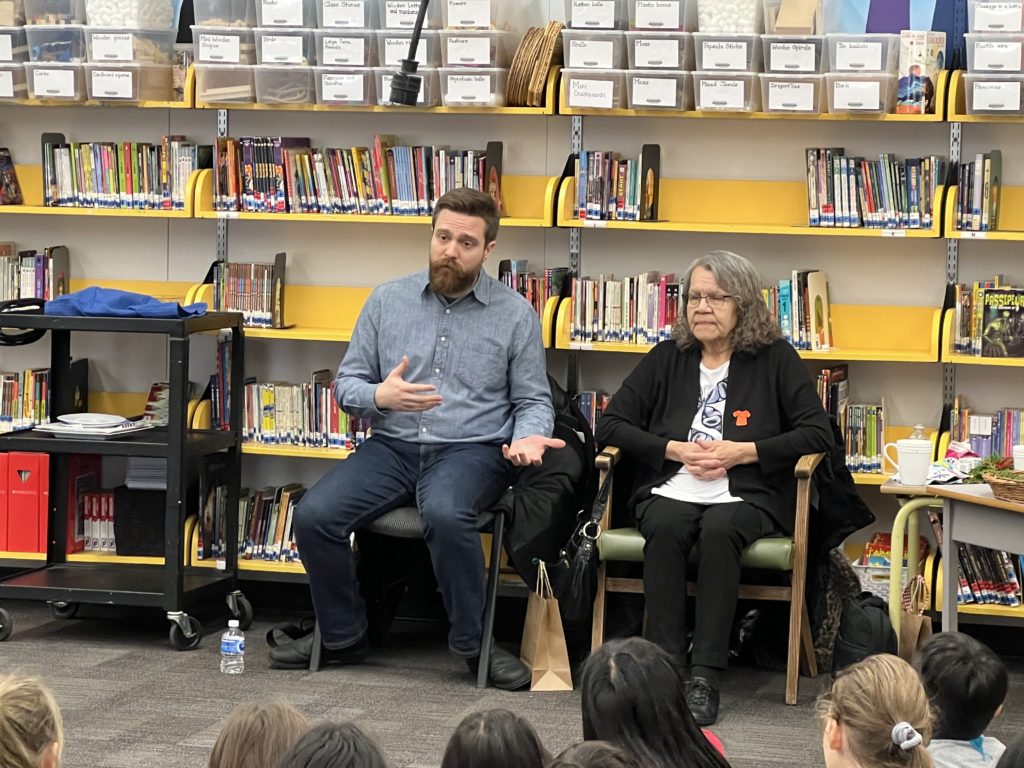 Week(s) of Giving
At this time of year, one thing we focus on at Devon Gardens, is how help and give others hope for the holidays.  Beginning Monday, November 21st, we will kick off our Week(s) of Giving initiative.  This year we are supporting two organizations in particular:  Fraser Region Aboriginal Friendship Centre (FRAFCA) and The Orchard, Whole Way House Society.   Donations for FRAFCA will be primarily focussed on pre-teens and teens, while donations for The Orchard will be for families and seniors.
We will be collecting various (NEW) items, suitable for a variety of ages (from kids to seniors) that will then be assembled into gift boxes.   If you would like to help us with these donations, please keep the information below in mind when doing your holiday shopping .  The gift boxes will be shoe boxes, so please keep this size in mind when sending in donations.   And, if you have shoe boxes to donate, please send those in too!
November 21st & 22nd :  Something Cozy (mitts, hats, toques, socks, scarves, etc…)
November 23rd & 24th: Something to sip (hot chocolate, tea, coffee, cute mugs, travel tumblers, Starbucks or Tim Hortons Gift Cards, etc…)
November 25th & 29th: Something to Do (cross word puzzle books, sodoku, rubics cubes, colouring books & crayons/pencil crayons, sketch books, playing cards, travel board games, etc..
November 30th & December 1st: Something Sweet to Eat (cookies, candies, chocolates, restaurant gift cards, etc…)
In addition to our Week(s) of giving initiative, exchanging families with another Delta school to put together Christmas Hampers, as well as collecting canned food items for the Food Bank.
Please stay tuned for more information, coming soon.

Adult Crossing Guard Needed (paid position)

After having spent all of last year without a Crossing Guard at the corner of Nordel and 112th, we were so pleased, at the start of this school year, to have finally found someone for that position (Ms. Houle).   Unfortunately, Ms. Houle is unable to continue in this role as she has accepted another job.  Friday was her last day.   The position has been posted and we are hopeful that we will soon find a replacement.
In the meantime, those families who do walk that way to and from school should use extra caution as, until the position, is filled we will not have a Crossing Guard at that location.  
Also, if you or someone you know, might be interested in the position, please contact Ms. Grund at bgrund@deltaschools.ca   or at 604-581-6185
This is a part-time role, for one hour per day (30 minutes each in the morning and afternoon), Monday – Friday, from September to June, on days school is in session.
Hours: 
8:20– 8:50am, Mon – Fri
3:00 – 3:30pm, Mon, Tues, Thurs, Fri
1:45 – 2:15pm, Wed
Requirements: 
Completion of Grade 10, or equivalent. Ability to communicate effectively with students, parents and drivers. Ability to use good judgement when confronted with difficult situations. Knowledge of and the ability to apply basic road safety rules. Physically capable of performing the duties of the position. Ability to work in all weather conditions. Criminal records check required

Student Crossing Guard Schedule
A huge thank you to our student crossing guards!   We appreciate the many students that volunteer their time to keep our school community safe before and after school. As this is such an important role, we ask that students find their own replacements if they are not able to do their crossing guard duty. Please review the updated crossing guard schedule with your child so they understand when their crossing guard duty takes place. Ms Grund is in charge of our Student Crossing Guard program, so please contact her with any questions.PlayDay Reg Form Nov 28
Revised Crossing Guard Schedule Crossing Guard
November 28th Play Day
Community Schools Partnership is hosting a Play Day on Monday, November 28th at Seaquam Secondary School. Our Play Days are single-day camps that run from 9am to 3pm and include various games, crafts, and other activities. All elementary school children from Kindergarten to Grade 7 are welcome to register. The upcoming Play Day will be Christmas themed. 
 Below, you will find a registration form for the program. Parents/guardians must register and pay online through Continuing Education. 

Have You Ever Thought of Becoming a Foster Parent?

Do you share a desire to help young people reach their full potential?
Currently in B.C. there are 1000's of kids who need temporary foster families when they can't live at home.  Many of these children and teens have experienced trauma and difficult times.
They need amazing foster families who understand the complex model of care and support they require to grow and develop in a positive way.   Please see the links below for for more information:
If this is something you would be interested in, or if you would like more information, please contact:
Ministry of Children & Family Development, South Fraser Recruitment Team (FII) at  778.609.2142

Raising Digitally Responsible Youth

Parenting is hard, and the rapid rise of technology and social media use in the lives of their kids makes it harder.  To help, the Delta School District is extending complimentary access to download "Raising Digitally Responsible Youth –A Parent's Guide from Safer Schools Together. The guide was designed to help introduce Parents and Caregivers to leading social media platforms, video games, and relevant trends that are either being used already or have the potential to be used by their children.
This guide is full of tips, how-to's and definitions for the most widely used apps – including TikTok, Snapchat, Instagram and more. Best of all – it's complimentary!
Check out the link below:
Stigma Free Society – Student Mental Health Toolkit –
The Student Mental Health Toolkit is a helpful platform for school staff and parents/guardians to
educate and support young people with their mental wellness. The Toolkit provides a wide variety of resources for individuals to enhance their mental health journeys and better understand the realm of well-being.  To access the parents/caregivers section, see the link below:

Purdy's Fundraiser
The DGPAC is doing a Purdy's Fundraiser.  If you are looking to purchase chocolates for gifts this season, here's a way you can do it while also supporting your PAC!
Here's the link to order: https://fundraising.purdys.com/join.aspx/1589588-100750
Please contact the DG PAC  if you have questions or need any further information
Reminder – PAC Fundraisers ongoing throughout the year
Return-it Express
PAC has created a school fundraising account. To participate, simply bring your containers to the depot in sealed, clear bags, and enter the registered phone number, 604-581-6185, into the Express kiosk. You will be prompted to select the number of bags you're dropping off, the kiosk will automatically print the same number of sticker tags displaying our PACs unique Express account code. Tag each of your bags with a sticker tag and drop the bags off in the designated Express drop-off area to be counted. For a list of Return-it Express location visit https://www.return-it.ca/locations/express/
Cobs Bread Dough Raiser Program
This program enables us to raise money for our school throughout the year! Be sure to mention Devon Gardens Elementary (or code 7806) each time you make a purchase at COBS Bread Scott 72 Centre; they will donate 10% of your purchase back to our school.
Level Ground Trading
Level Ground is a BC business that works with fair trade coffee, tea, dried fruit and spice producers.
Supporters enter the code devongardensin the 'discount code' field at the checkout.
All products on our web store (com) qualify for the fundraiser. Orders must be $40 or more. These orders also qualify for free shipping to most addresses in Canada (there is a shipping fee on all orders shipped to NU/NT/YK). All orders are paid for through our web site and shipped directly to your supporters. No need to collect orders or distribute products to households.
Your fundraising amount is 20% of total sales.  So on a $100 order your school will receive $20.
Online Stay Safe & Babysitting Courses
Offered through First Aid Hero. When registering use promo/coupon code DGPAC and our PAC will earn $8 from each registration. For details, available course dates and online registration, please follow the links below: Babysitting – https://firstaidhero.com/babysitting-courses/online-babysitting-courses/ Stay Safe – https://firstaidhero.com/stay-safe/
Questions? Send an email to pacdevongardens@gmail.com
Thank you,
Your Devon Gardens PAC

Monday, November 21st – Week(s) of Giving begins
November 21st & 22nd – Something Cozy (mitts, hats, toques, socks, scarves, etc…)
Tuesday, November 22nd: Grade 7 Volleyball @ McCloskey 3:20pm
Week(s) of Giving:
November 23rd & 24th: Something to sip (hot chocolate, tea, coffee, cute mugs, travel tumblers, Starbucks or Tim Hortons Gift Cards, etc…)
Thursday, November 24th: Grade 7 Volleyball game CANCELLED
Week(s) of Giving:
November 25th: Something to Do (cross word puzzle books, sodoku, rubics cubes, colouring books & crayons/pencil crayons, sketch books, playing cards, travel board games, etc..
Monday, November 28th: Professional Development Day (no school for students)
Week(s) of Giving:
November 29th: Something to Do (cross word puzzle books, sodoku, rubics cubes, colouring books & crayons/pencil crayons, sketch books, playing cards, travel board games, etc..
November 30th & December 1st: Something Sweet to Eat (cookies, candies, chocolates, restaurant gift cards, etc…)
Wednesday, November 30th: Deadline to order Purdy's chocolates (PAC fundraiser)
Monday, December 5th: PAC meeting 7:30 pm
Thursday, December 8th: Term 1 Report Cards available online
Tuesday, December 13th: Christmas Concert – 1:30pm & 6:30pm
Wednesday, December 14th: Pyjama Day
Friday, December 16th: Special Foods Day (pizza hut)
Friday, December 16th: last day of school before Winter Break