Dear DG Families,
June is a busy month for us at the school. Please make sure that you are reading the emails sent out to you from the school. With the end of the school year coming up quickly, please be aware of the events happening for your child(ren).
2022-2023 Calendar
Here is the link to next school year's calendar.
Devon Gardens CALENDAR APPENDIX II 22-23

June is Pride Month
While Pride has become synonymous with diversity, rainbows, and love, it was sparked from a much darker beginnings. Pride started as an uprising against police violence and injustice in June 1969 in New York City. Black and Brown trans women stood up to police violence. These acts of resistance, now known as the Stonewall uprising, led to the birth of Pride, Pride marches and the LGBTQAI2S+ rights movement. Society has seen positive changes and improvements regarding the treatment and acceptance of members of this community, but there is still work to be done.   Attitudes and injustice still exist and all members of our school community, whether they identify as LGBTQAI2S+ or not, are affected by homophobia and transphobia.   We need to ensure schools are inclusive and safe for students/parents/staff of all sexual orientations and gender identities.  Someone's gender does not limit their interests and opportunities, and their sexual orientation and how they understand and express their gender are welcomed without discrimination. Happy Pride, Dragons!
Volunteers Needed for our Garden Area!
As you may know, last year our school planted a Western Red Cedar tree, along with vegetables and flowers in planter boxes, at the front of the school. Both the tree and the garden boxes require regular watering.   In anticipation of summer approaching, we are reaching out to our families (particularly those of you who live nearby) to help us water over the summer, to ensure our new garden and cedar tree continue to thrive.  As we did last summer, we are hoping to create a schedule of volunteers to take turns doing the watering so that it's a manageable task (many hands make light work).  You will have access to water and a hose at the school, and we will show you exactly what needs to be done.  If you are willing to help out with watering this summer, please email Ms Tee stee@deltaschools.ca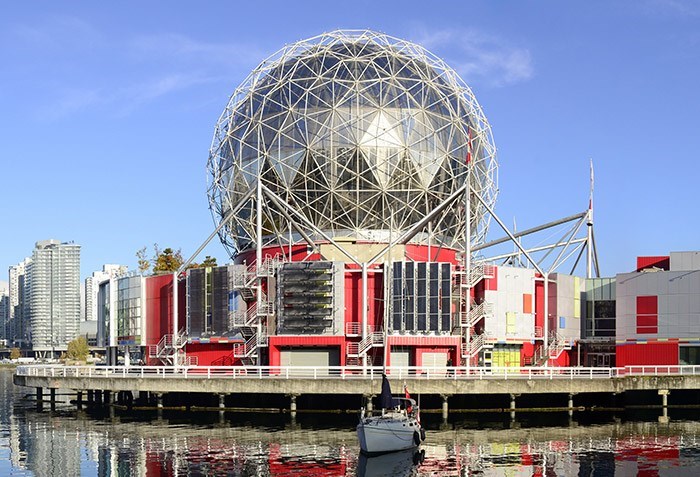 SCIENCE WORLD PRESENTATIONS
We have 2 science world presentations booked for our school; one for primary students on June 9th and one for intermediate students on June 13th.  We are looking forward to having Science World come to our school and share with our students!
IMPORTANT INFORMATION for FRENCH IMMERSION FAMILIES –  STUDENTS NEED TO BE HERE EARLY ON  JUNE 10

Through funds made available to support French Immersion programming, we have booked a French Theatre presentation for all French Immersion classes on the morning of June 10th.  The play is entirely in French, for K to grade 7.
For logistics reasons, the show must start earlier than we would usually begin an assembly, and students still need  time to drop off their bags/ jackets and change their shoes. As such, French Immersion students need to be here by 8:35 on June 10th.    For questions/additional information, please contact your child's teacher.

PAC Popcorn Sales at RECESS
We are pleased to announce that the PAC will be selling popcorn at recess on the following dates:
Wednesday, June 15th – FINAL SALE this year
1 bag of popcorn will be sold for $1.00.   Students are encouraged to bring exact change.
Due to popular demand, each student will only be allowed to buy a maximum of 2 bags of popcorn.
Welcome to Kindergarten
If you have an incoming kindergarten student joining us at Devon Gardens in September, please save the afternoon of Wednesday, June 8th for our Welcome to Kindergarten event!
Cops for Cancer – Guessing Jar Challenge-FINAL
WEEK to GUESS

We have started our final Cops for Cancer fundraiser for the year – another "Guessing Jar Challenge".   We have prepared a variety of jars containing different amounts of fun stuff (individually wrapped candies, toys, etc….).  For only $2 a guess, students may buy a ticket to guess how many objects they think are in a "jar" for a chance to win!   There are a variety of jars to choose from and students may enter as many times as they wish.  The closest guess for each jar, wins!     This is a great way for students to practice their estimation skills and help the Cops for Cancer Team raise funds for pediatric cancer research, all at the same time!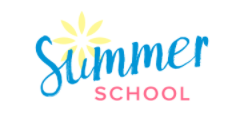 Registration for ELL summer school is now open. There are 2 sessions students can choose from:
Grades 1-7 English Language Learners: Focus on literacy and numeracy
Session 1 – July 4th – July 15th
Session 2 – July 18th – July 29th
9:00am – 1:00pm
McCloskey Elementary (North Delta)
*Note: If students are currently in grade 7 going into grade 8 next year, they will need to register in the gr 8 ELL summer session at Burnsview. 
Grades 8 – 12 English Language Learners:
Delta students: July 4th – 21st
9:00am – 12:00 noon
Burnsview Secondary (North Delta)
ELL-1-7-Registration-Information-2022
Nordel and 112th Adult Crossing Guard Position
We are still looking for an adult paid crossing guard for the Nordel and 112th Crossing. This position is half hour before school and half hour after school when school is in session; perfect for a retired person wanting to do something everyday. We have advertised this position through the local paper, notices at the library and community centres and on social media.  If you know someone interested in this paid position, please email stee@deltaschools.ca 

Please check the crossing guard schedule for when your child is scheduled to be a crossing guard. Reminders to please find someone to take your spot if you are unable to be out for your shift. Many thanks!
https://docs.google.com/spreadsheets/d/1BMm71ezj8vyuCaZ2IBOJVu2osV2625I0zcJIqqkwYCk/edit?usp=sharing
There will be an ice cream celebration to thank all of our student crossing guard volunteers week of June 20th. Please stay tuned for more information.

Please save the date of Monday, June 6th at 7:30 p.m. via zoom to join this very important PAC meeting.
Subject: Call for Nominations: Devon Gardens PAC Executive Committee – AGM June 6, 2022
Dear Parents & Guardians,
Devon Gardens PAC is hosting its Annual General Meeting (AGM) on June 6, 2022 via Zoom.
Elections for all executive/voting positions for the 2022-2023 Parent Advisory Council (PAC) Committee will be held at this meeting.
The Devon Gardens PAC cannot function without dedicated volunteers. We welcome nominations for all of the executive officer/voting positions and hope you will join us in fulfilling our mandate to represent the parent voice and support our school. Below is a list of the PAC executive officer/voting positions, name of the current appointed representative, with years served and intention to continue for the 2022-2023 school year.
| | | | |
| --- | --- | --- | --- |
| PAC Executive Officer/Voting Positions | Name | Years in Position | Intention to Return for 2022-2023 |
| Chair | Azeem Mohammed | 1 | Yes |
| Vice-Chair | Jennifer Iachetta | 2 | Yes |
| Secretary | Varinder Khaira | 1 | No |
| Treasurer | Carolyn Stanley | >4 | No |
| Gaming Representative | Cleo Nomm | 2 | Yes |
| District PAC Representative | Stevie Wild | 1 | Yes |
| Canadian Parents for French Rep. | Katrina Smyth | 2 | Yes |
| Member at Large | Adrian Wild | 1 | Yes |
| Member at Large | Herminder Mahay | 1 | Yes |
| Member at Large | Jana Methven | >4 | No |
| Member at Large | Doug Tanner | 1 | Yes |
| Past Chair | Varinder Khaira | 1 | No |
To view the executive officer/voting positions available and their respective duties, refer to the PAC constitution.
Any parent or guardian of a student registered at Devon Gardens Elementary is eligible to hold a position on the Executive Committee, except for employees or elected officials of the School Board District or Ministry Of Education. Executive Officers shall be elected by the current Voting Members (listed above) at the AGM held in June each year. The term of office shall commence in September of each year and shall be held for one year.
NOMINATION Process 
To express your interest, agreement to serve, and confirm your qualifications for the position you would like to nominate yourself for, please email send an email to pacdevongardens@gmail.com with the following information:
Full name
Contact information
Position interested in
Nominations will also be accepted from the floor during the AGM. Note that you must be present at the AGM meeting to be nominated (or self-nominate) and only current PAC executive officers holding a voting position (listed above) may vote.
We hope you will consider running for a position on the 2022-2023 DG PAC Executive Committee.
Thank you,
Devon Gardens PAC
DG PAC PUB NIGHT FUNDRAISER – JUNE 10th
The Devon Gardens PAC is hosting a pub night fundraiser, June 10th.  Please see their invitation, below.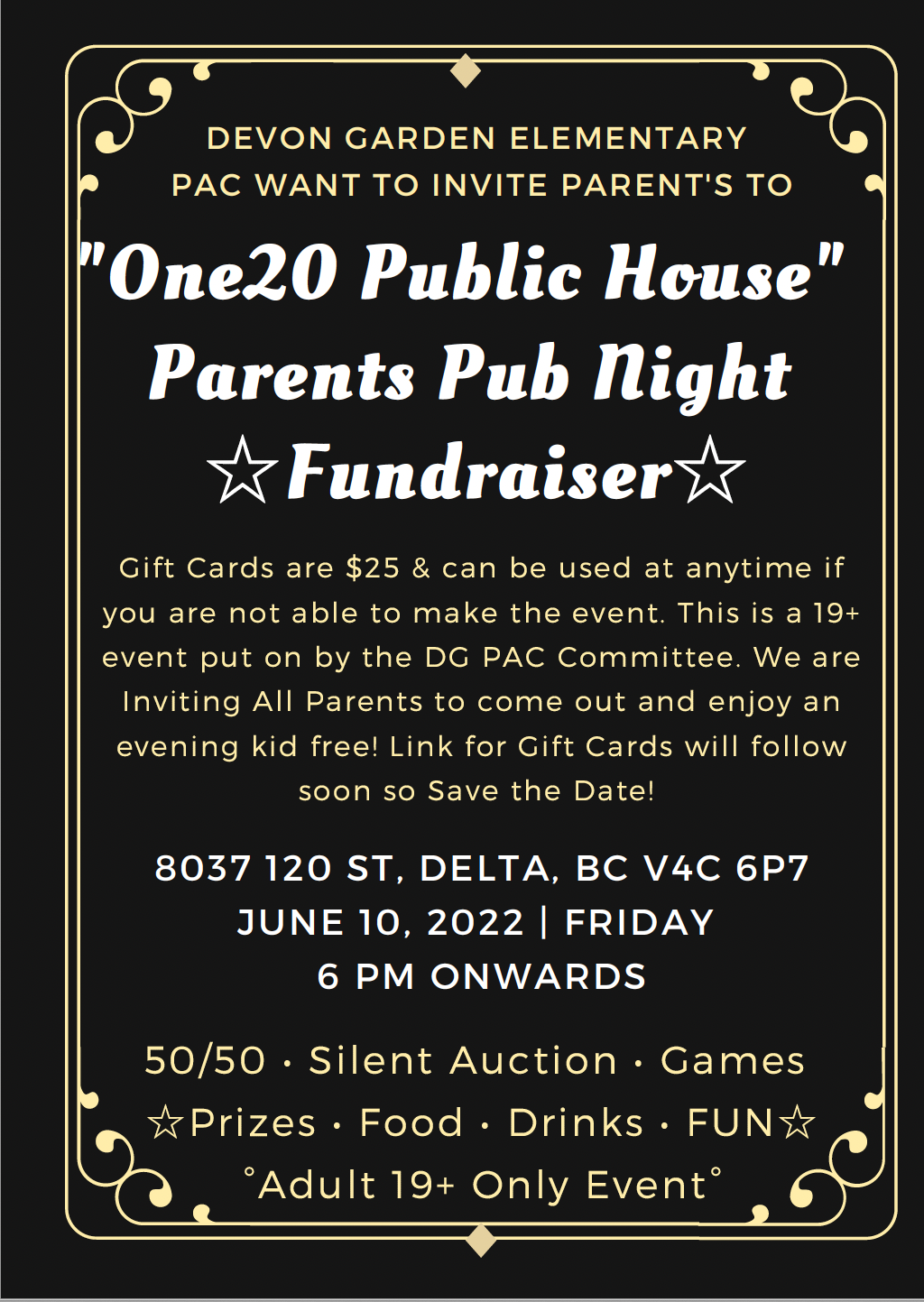 Gift Cards are now available for purchase through our PAC online system – https://devonpac.hotlunches.net/. Each gift card is $25 in value and you are welcome to purchase as many as you like. The cards may be used at any time (no expiry date), but hoping you will attend and use at the June 10th pub night event. Ordering will be open until the end of the day, Monday, June 6th . Don't have an account for the online ordering system – click here for step-by-step instructions. If you have multiple children at the school, please submit the order under your eldest child. Gift Cards purchased will be sent home with your child by Thursday, June 9 th . Questions?
Send an email to pacdevongardens@gmail.com
Reminder – PAC Fundraisers ongoing throughout the year
Return-it Express
PAC has created a school fundraising account. To participate, simply bring your containers to the depot in sealed, clear bags, and enter the registered phone number, 604-581-6185, into the Express kiosk. You will be prompted to select the number of bags you're dropping off, the kiosk will automatically print the same number of sticker tags displaying our PACs unique Express account code. Tag each of your bags with a sticker tag and drop the bags off in the designated Express drop-off area to be counted. For a list of Return-it Express location visit https://www.return-it.ca/locations/express/
Cobs Bread Dough Raiser Program
This program enables us to raise money for our school throughout the year! Be sure to mention Devon Gardens Elementary (or code 7806) each time you make a purchase at COBS Bread Scott 72 Centre; they will donate 10% of your purchase back to our school.
Level Ground Trading
Level Ground is a BC business that works with fair trade coffee, tea, dried fruit and spice producers. For details and to place an order, please visit our very own Devon Gardens landing page https://www.kaci.io/devon-gardens-elementary-school-level-ground. Enter DevonGardens in the discount code field at checkout and 15% of your purchase will be a payback to the school on every order of $40+. Free shipping on orders $40+
Online Stay Safe & Babysitting Courses
Offered through First Aid Hero. When registering use promo/coupon code DGPAC and our PAC will earn $8 from each registration. For details, available course dates and online registration, please follow the links below: Babysitting – https://firstaidhero.com/babysitting-courses/online-babysitting-courses/ Stay Safe – https://firstaidhero.com/stay-safe/
Questions? Send an email to pacdevongardens@gmail.com
Regards,
Devon Gardens PAC
Monday, June 6th: PAC meeting via zoom 7:30 p.m.
Tuesday, June 7th: Wear your Culture Day
Wednesday, June 8th: Welcome to K 2 p.m.
Thursday, June 9th: Science World Presentation for K-3
Friday, June 10th: French Immersion Play K-7 (students need to be here early – by 8:35)
Monday, June 13th: OWL presentations Div 4, 13, 14, 15
Wednesday, June 15th: Popcorn Sales
Friday, June 17th: Sports Day
Friday, June 17th: Special Lunch Day
Monday, June 20th: Central City Fun Park Grade 7's
Tuesday, June 21st: Div13 Virtual Art Field Trip
Friday, June 24th: Grade 7 Leaving Assembly 9:15 a.m.
Monday, June 27th: Grade 7 Playland Field Trip
Tuesday, June 28th: Year End Assembly and Slideshow
Wednesday, June 29th: Last day with Students
Thursday, June 30th: Administrative Day
Other dates and events are listed on our school calendar on our website: https://dg.deltasd.bc.ca/events-calendar/